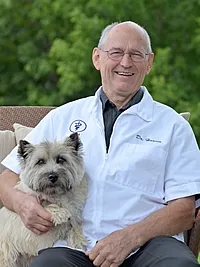 Dr. Kurt Walter-Hansen
Owner, Veterinarian
In 1985, Dr. Walter-Hansen bought a little house that had been built way back in 1915. After considerable remodeling, he turned it into a functioning veterinary hospital, and Shamrock Animal Hospital was born. As the clinic grew and the many pets of Rosemount came to receive care, Dr. Hansen realized they were going to need a bigger facility! They moved into their new building in 1996, where the hospital still is today.
Dr. Walter-Hansen received both his master's in animal science and economics and his DVM degree from the Royal Veterinary and Agricultural University in Copenhagen, Denmark. In 1981, he completed a clinical internship at Iowa State University followed by a one-year clinical residency in field services at the University of Minnesota in 1982. In 1990 and 1994, he completed advanced course work in orthopedic surgery at Ohio State University. He's also one of a few practicing veterinarians in Minnesota certified to perform the advanced TPLO (Tibial Plateau Leveling Osteotomy) and TTA (Tibial Tuberosity Advancement) surgeries. In addition, Dr. Walter-Hansen serves as an adjunct instructor at the University of Minnesota College of Veterinary Medicine.
Dr. Walter-Hansen is a self-proclaimed "project magnet." He often works on building construction and other challenging endeavors. He also enjoys traveling with his wife, working on his country farm with a menagerie of animals, and spending time with his children and grandchildren.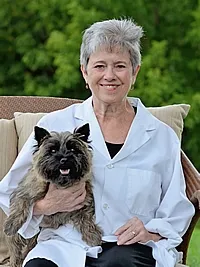 Dr. Patricia A. Walter
Owner, Radiologist
Like her husband and partner in hospital ownership, Dr. Patricia Walter received her DVM degree from the Royal Danish Veterinary and Agricultural University in Copenhagen, Denmark. After graduating, she owned a small-animal practice in Copenhagen while working in the radiology department at the University. She was board-certified by the American College of Veterinary Radiology in 1984 after completing a clinical residency and a master's degree in radiology at the University of Minnesota College of Veterinary Medicine. She was a faculty member at the University from 1985-2003.
Dr. Walter has special interests in abdominal ultrasonography and pulmonary radiography. She has contributed many scientific articles and textbook chapters to veterinary literature, and she owns Veterinary Diagnostic Imaging, Inc., which provides continuing education, telemedicine, and referral ultrasound services to other veterinary practices.
Dr. Walter lives with her husband on a farmstead in Rosemount, where they share their lives with three rowdy terriers, three mischievous cats, and three comfortably retired horses. When time allows, she enjoys traveling with her husband, gardening, searching for antiques, and spending time with her two energetic granddaughters.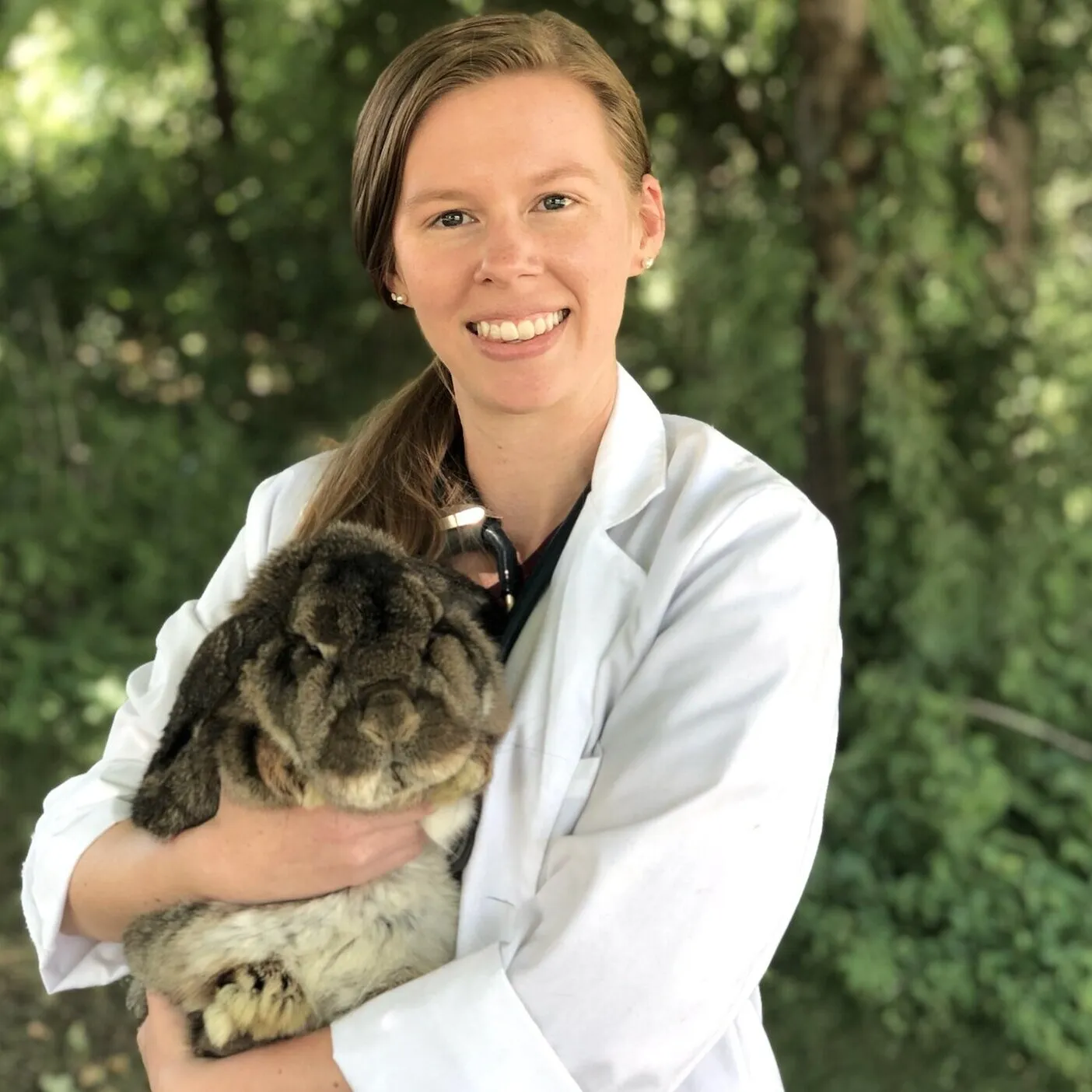 Dr. Hannah Moua
Veterinarian
Dr. Moua received her undergraduate degree in biology from the University of Northwestern St. Paul in 2015 and is a 2021 graduate of Iowa State University College of Veterinary Medicine. She has worked in a wide variety of settings including anesthesiology, shelter medicine, wildlife rehabilitation, research, and small animal general practice. She is especially passionate about pocket pets--small exotic mammals like rabbits, guinea pigs, and rodents--as well as preventative/wellness medicine and client education. Additionally, she is Fear Free certified, meaning she has completed training to use methods that help reduce anxiety in pets during veterinary visits.
Dr. Moua has always loved all animals, but it was her first rabbit, Humphrey--a toothless, deaf Holland lop with one good eye--that made her fall in love with rabbits and pocket pet medicine. Currently, she and her husband share their home with four rabbits (Ghibli, Daisy, Sprout and Ted Bunny), and a mustached British shorthair cat, Groucho Marx. When she's not working or caring for her pets, Dr. Moua spends her time hiking, traveling, reading, or being in prayer and worship with her small church family. Dr. Raeyna Modrow-Longtin
Veterinarian
Dr. Longtin grew up just outside Cedar Rapids, Iowa. Her family spent summers at their cabin near Brainerd, and she always wanted to live in Minnesota. She earned a Bachelor of Arts degree (and her husband, Shane) at Illinois Wesleyan University and graduated from the University of Minnesota College of Veterinary Medicine in 1996. She started a house-call practice where she worked for 12 years.
Dr. Longtin is certified in Fear Free handling and is passionate about making your pet's veterinary experience as low stress as possible. She loves being a part of the bond between people and their pets and enjoys mentoring and encouraging team members.
In addition to her husband, Dr. Longtin has two adult children, Jordan and Michael. Her 'empty nest' is still fairly full, with her standard poodle, Percy; golden retriever, Bubbles; a small herd of cats, and a cowardly ball python named Rodney Dangernoodle. When she isn't working, she enjoys a variety of crafts and tinkering with her vintage Volkswagen Beetle, Winifred.