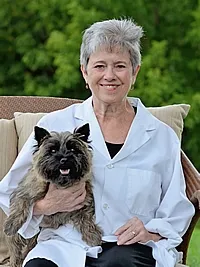 Dr. Patricia A. Walter
Owner, Radiologist
Like her husband and partner in hospital ownership, Dr. Patricia Walter received her DVM degree from the Royal Danish Veterinary and Agricultural University in Copenhagen, Denmark. After graduating, she owned a small-animal practice in Copenhagen while working in the radiology department at the University. She was board-certified by the American College of Veterinary Radiology in 1984 after completing a clinical residency and a master's degree in radiology at the University of Minnesota College of Veterinary Medicine. She was a faculty member at the University from 1985-2003.
Dr. Walter has special interests in abdominal ultrasonography and pulmonary radiography. She has contributed many scientific articles and textbook chapters to veterinary literature, and she owns Veterinary Diagnostic Imaging, Inc., which provides continuing education, telemedicine, and referral ultrasound services to other veterinary practices.
Dr. Walter lives with her husband on a farmstead in Rosemount, where they share their lives with three rowdy terriers, three mischievous cats, and three comfortably retired horses. When time allows, she enjoys traveling with her husband, gardening, searching for antiques, and spending time with her two energetic granddaughters.