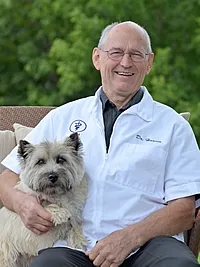 Dr. Kurt Walter-Hansen
Owner, Veterinarian
In 1985, Dr. Walter-Hansen bought a little house that had been built way back in 1915. After considerable remodeling, he turned it into a functioning veterinary hospital, and Shamrock Animal Hospital was born. As the clinic grew and the many pets of Rosemount came to receive care, Dr. Hansen realized they were going to need a bigger facility! They moved into their new building in 1996, where the hospital still is today.
Dr. Walter-Hansen received both his master's in animal science and economics and his DVM degree from the Royal Veterinary and Agricultural University in Copenhagen, Denmark. In 1981, he completed a clinical internship at Iowa State University followed by a one-year clinical residency in field services at the University of Minnesota in 1982. In 1990 and 1994, he completed advanced course work in orthopedic surgery at Ohio State University. He's also one of a few practicing veterinarians in Minnesota certified to perform the advanced TPLO (Tibial Plateau Leveling Osteotomy) and TTA (Tibial Tuberosity Advancement) surgeries. In addition, Dr. Walter-Hansen serves as an adjunct instructor at the University of Minnesota College of Veterinary Medicine.
Dr. Walter-Hansen is a self-proclaimed "project magnet." He often works on building construction and other challenging endeavors. He also enjoys traveling with his wife, working on his country farm with a menagerie of animals, and spending time with his children and grandchildren.